Ulla-Stina Johansson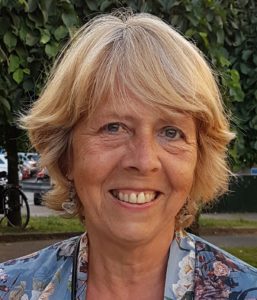 Certified Focusing Professional
Personal Statement
I have been passionately interested in questions like what is life all about and how to live authentically since I was a child. Throughout my adult life I've explored answers to these and other questions in psychology, philosophy and religion—sometimes in bliss and sometimes in darkness. As a psychotherapist, I have training in psychoanalytic, cognitive-behavioral and existential therapy. Existential psychology has been closest to my heart. But it was not until I learned Focusing that my experiences and theory became palpably integrated in a bodily felt way. Focusing is for me a way of actively living in exploration.
As a psychotherapist, I offer myself as the client´s companion in exploration of their experiences, challenges, gifts, values and relationships to others (including me as a therapist). Since we all deep-down are able to discern between what is true and what is false, there is also an inherent hope for healing. In therapy, we listen together to hear, discern and strengthen the client's unique voice and find just the right steps forward in their living.
Location(s):
Office 1: Gothenburg, Sweden
Office 2: Online contact (Zoom or Skype)
Office 3: Telephone contact.
Public Contact Details:
telephone:+46 (0)761 164737
website: existera.net/
email: info@existera.net
Languages: English, Swedish
---
Professional Details:
Professional memberships with licensing or registering bodies:
Registered Member of the Swedish Psychological Association.
_____________________________________________________________
Academic and training qualifications:
BA Psychology, University of Gothenburg, Sweden.
MSc Psych, University of Gothenburg, Sweden.
University Diploma in Psychotherapy, University of Linkoping, Sweden.
Adv. Dip. Existential Psychotherapy, Swedish Association for Existential Psychotherapy.
Certificate in Focusing-Oriented Psychotherapy.
_____________________________________________________________
Therapeutic services:
Individual psychotherapy
Focusing-Oriented Consultation
Focusing-Oriented Coaching
Online/Zoom or Skype sessions
Telephone sessions
_____________________________________________________________
Areas of special interest or advanced training:
Existential and spiritual issues, loneliness/emptiness, authenticity/connection, trauma and somatic diseases.
_____________________________________________________________
Training:
Training groups to learn Focusing (open to the public)
Individual sessions for people to learn Focusing (open to the public)
Introductory course in Focusing for Psychotherapists
Consultation and supervision for psychotherapists, psychologists, counsellors
Courses and workshops for groups on several existential issues
Lectures and training for organizations and teams
_____________________________________________________________
Upcoming Event(s):
Event title: Introduction in Focusing for Psychotherapists
Subtitle: Focusing as a way to develop therapeutic presence
Focusing is an approach to access your own bodily felt experience through deep listening in presence, openness, not-knowing, curiosity, interest and gentleness. It is a tool to be more coherent and connected to yourself and others and more present and grounded in your daily life. It is also an approach that can be used in your work as a therapist with clients. If you offer an open space, without a theoretical filter and therapeutic agenda, it will open space for your clients to feel safe, connected and heard. From that place clients gain access to their bodily felt experience, explore it, and gain awareness finding words which provide the right way forward to growth.
The workshop is experience-based and we will work individually, in pairs and in a larger group. It is facilitated by Ulla-Stina Johansson, licensed psychologist, psychotherapist and certified focusing oriented therapist.
We will meet at Järntorgsgatan 12 – 14 in Gothenburg, Sweden.
Saturday the 5th to Sunday the 6th of September, 2020