Mrs. Tine Swyngedouw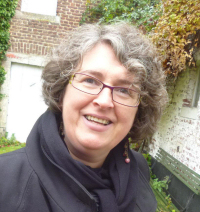 Focusing Institute Certifying Coordinator
Certified Focusing-Oriented Therapist
Certified Focusing Trainer
Personal Statement
This is what I love about Focusing: Being connected with my inner world and helping people to find that inner connection with themselves, and live from there.
I have been practicing Focusing and working as a psychologist and experiential psychotherapist since 1990. I offer individual psychotherapy for adolescents and adults, supervision and training to become a Certified Focusing Professional.
Location(s):
Office 1: Leuven, België
Office 2: Skype
Public Contact Details:
telephone:+32484237342
website: http://www.focussenvlaanderen.be/
email: tine.swyngedouw@gmail.com
Languages: Nederlands, English
---
Professional Details:
Professional memberships with licensing or registering bodies:
Vlaamse Vereniging voor Cliëntgericht-Experiëntiële Psychotherapie en Counseling
Vlaamse Vereniging van Klinisch Psychologen
Belgische Federatie van Psychologen Psychologencommissie
Academic and training qualifications:
Master Clinical Psychology (KULeuven 1990)
Postgraduate Client-centered-Experiential Psychotherapy (KULeuven 1993)
__________________________________________________________________
Therapeutic services:
o  Individual psychotherapy/counselling
o  Individual Focusing sessions (guided Focusing, not ongoing therapy)
o  Online/Skype sessions
Areas of special interest or advanced training:
Trauma, depression, grief, burnout, chronic fatigue syndrome, fybromyalgia
Adolescents and adults
---
 Training: 
o I offer training groups to learn Focusing (open to the public)
o I offer individual sessions for people to learn Focusing (open to the public)
o I offer training in Focusing-oriented Therapy (for professionals)
o  Consultation and Supervision for psychotherapists, psychologists, counsellors
Details of these and any other services:
I offer training in Focusing, Focusing with children, Focusing in psychotherapy, Focusing and writing, and Thinking At the Edge/TAE.
_____________________________________________________________
 Recent Publications (5 years or less):
Swyngedouw, T. (2015) Helping children (and adults) to find their inner home. The Folio, XXVI (1)