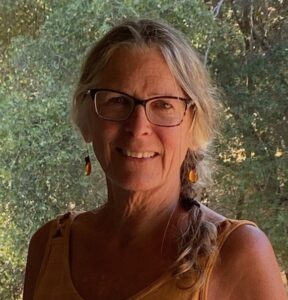 Certified Focusing-Oriented Therapist
Personal Statement
Hello, my name is Randi Love. I offer psychotherapy services based on a foundation in humanistic psychology and somatic-based therapies to include mindfulness and Focusing Oriented Therapy. I believe we all carry within the natural ability to orient toward our optimal state of being. It is my desire to accompany and support you on your journey, listening compassionately without judgment, so that you may develop the capacity to listen and trust your own inner knowing.
I taught Focusing Oriented Therapy with Jeffrey Morrison in Vashon, Washington from 2015 to 2021. I am home based in Manzanita, Oregon and currently live in California. I offer teletherapy through Zoom, FaceTime, or phone.
Location(s):
Office 1: Fairfield, Ca.
Office 2: Manzanita, Or.
Public Contact Details:
telephone: 509-710-2858
website: www.randilovecounseling.com
email: randilovecounseling@gmail.com
Languages: English
---
Professional Details:
Professional memberships with licensing or registering bodies:
International Association of Focusing Oriented Therapists, July, 2016 to Present
American Speech-Language-Hearing Association, 1977 to Present
American Counseling Association, 2004 to Present
National Board For Certified Counselors, 2013 to Present
Academic and training qualifications:
M.A., Speech-Language Pathology 1977; M.A., Counseling Psychology, 2004
Post-graduate Training: Focusing-Oriented Therapy with emphasis on Treatment of Trauma 2013 – 2015
Wellness Institute, Issaquah, Wa. 2001-2004, Eclectic Training Program for CounselingTherapists;
Adv,Certification in Hypnotherapy & Breathwork; Best Practice included Gestalt Therapy,
Focusing, Shamanism (Tulalip Tribe)
Embodied Life Mentorship Program (Zen, Focusing Oriented Therapy, Feldenkrais Movement),Russell Delman,
2013 to Present
Focusing Oriented Therapy Coursework, Level 1-4; Trauma & the Critic, Jeffrey Morrison,, 2013-2014
Assisted Jeffrey Morrison – Two Year Training Program Focusing Oriented Therapy And Complex Trauma, 2015
to 2021 (now the Seattle Focusing Institute)
_____________________________________________________________
Therapeutic services:
Telephone sessions, Online/Skype/Zoom sessions, Individual psychotherapy/counselling
Areas of special interest or advanced training:
Trauma / Current and Inter-generational
Grief / Loss
Spiritual Growth / Meditation
---
 Training: 
offer individual sessions for people to learn Focusing (open to the public), psychologists