Charlotte Howorth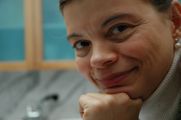 Focusing Institute Certifying Coordinator
Certified Focusing-Oriented Therapist
Certified Focusing Trainer
Personal Statement
My work springs from the deep conviction that we all have surprising possibilities that can be tapped in a process of healing interaction and genuine introspection.
My job is to be the kind of interaction that moves the process forward and facilitates the kind of discoveries that produce their own unique, new, and life changing forward steps.
I have been practicing as a psychotherapist for over 20 years. I work with individuals, groups, couples, families, and children in both Manhattan and Brooklyn in NYC, USA, as well as online.
In addition to my private practice I facilitate Focusing Oriented Psychotherapy Certification Training for The Focusing Institute both in person and online. In addition, I am on the faculty of, and teach for The Experiential Psychotherapy Project, a group combining Focusing Oriented Therapy with Relational Self Psychology.
In addition to my certification courses I also facilitate focusing workshops internationally.
Location(s):
Office 1: 307 West 38th Street, #817, Manhattan, New York, NY 10018, USA
Office 2: 11 4th Street, #2, Brooklyn, NY 11231, USA
Public Contact Details:
telephone: 347 489 9587
website: http://www.howortherapy.com/ and http://www.focusingorientedtherapy.com/
email: ch@howortherapy.com
Languages: English
---
Professional Details:
Professional memberships with licensing or registering bodies:
Licensed Clinical Social Worker (LCSW).
Academic and training qualifications:
Coordinator for The Focusing Institute
Faculty and teacher with The Experiential Psychotherapy Project.
Aboriginal Focusing Oriented Psychotherapy practitioner and trainer
Lecturer in Social Work, Columbia University, NY.
Diploma in Counseling and Psychotherapy with resultant full accreditation to practice in the U.K.
Trained as an EMDR practitioner for work in trauma.
Masters In Social Work (MSW) Hunter College, Majoring in both Case and Group Work
Post-graduate training as a couples and family therapist.
Post-graduate psychoanalytic training in analytic Relational Self Psychology.
Post-graduate training in psychoanalytic group psychotherapy.
_____________________________________________________________
Therapeutic services:
o  Individual psychotherapy/counselling
o  Individual Focusing sessions (guided Focusing, not ongoing therapy)
o  Couple/Relationship therapy
o  Focusing-Oriented Coaching
o  Online/Skype sessions
o  Telephone sessions
o  Group or family therapy
Areas of special interest or advanced training:
Combining Relational Self Psychology with Focusing Oriented Psychotherapy
Aboriginal Focusing Oriented Therapy
---
 Training: 
o I offer training groups to learn Focusing (open to the public)
o I offer individual sessions for people to learn Focusing (open to the public)
o I offer training in Focusing-oriented Therapy (for professionals)
o  I offer training for organizations and teams
o  Consultation and Supervision for psychotherapists, psychologists, counsellors
Details of these and any other services:
In Person or Online Trainings:
– An introduction to Focusing taught over 2 weekends suitable for students from any background.
– 10 month Focusing training where students from any back ground can learn to deepen their focusing practice and start to learn to guide.
– 2 year certification course for students from any background to graduate as focusing teachers and guides.
– 2 year certification training for mental health professionals to integrate Focusing Oriented Psychotherapy into their clinical practice to graduate as Focusing Oriented Therapists and Teachers.
– Clinical supervision groups to therapists.
– Individual supervision and clinical sessions.
_____________________________________________________________