Ms. Catherine Johnson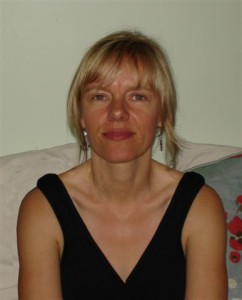 Focusing Institute Certifying Coordinator
Certified Focusing-Oriented Therapist
Certified Focusing Trainer
Personal Statement
Having worked as a therapist for almost 20 years now, I continue to be interested in the processes through which we navigate crises or difficult issues in our adult lives and emerge feeling stronger, more alive and more authentically "ourselves".
I believe the relationship between therapist and client is a hugely important part of the therapy process – a potent collaboration towards growth and wholeness. It supports the client in safely touching into and engaging with feelings, thoughts, memories and body sensations that often have felt frightening or impossible to approach. It accompanies the client in a creative exploration that enables shifts and new perspectives to emerge from places that may seem old or stale.
Focusing has been central to my own development, both personally and as a therapist over the 12 years since I encountered it through my meditation practice. Since 2004, I have taught Focusing to groups of lay people, to counselors in clinics and hospices and I have co-ordinated the training of two groups of therapists in Cape Town in Focusing Oriented Therapy.
Location(s):
Office 1: 3 St David's Road, Claremont, Cape Town, South Africa
Office 2: Skype sessions
Public Contact Details:
telephone: 27 21 671 6438 (landline) or 27 846264311 (cell)
email: cassiscatherine@gmail.com
Languages: English
---
Professional Details:
Professional memberships with licensing or registering bodies:
Registered with the Health Professions Council of South Africa
Academic and training qualifications:
Masters degree in Clinical Psychology
Qualified EMDR therapist
Post-graduate training in Focusing-Oriented therapy
Accreditation with The Focusing Institute
Post-graduate training in psychoanalytic psychotherapy
Post-graduate training in body-based therapy for trauma and chronic pain
_____________________________________________________________
Therapeutic services:
o  Individual psychotherapy/counselling
o  Individual Focusing sessions (guided Focusing, not ongoing therapy)
o  Online/Skype sessions
o  Telephone sessions
Areas of special interest or advanced training:
Trauma is a special interest. I have a background in several approaches to working with Trauma and I am trained in EMDR. I also have a strong interest in Chronic Pain and its treatment, where I work with clients using a team-based inter-disciplinary approach.
---
 Training: 
o I offer training groups to learn Focusing (open to the public)
o I offer individual sessions for people to learn Focusing (open to the public)
o I offer training in Focusing-oriented Therapy (for professionals)
o  Consultation and Supervision for psychotherapists, psychologists, counsellors
Details of these and any other services:
No current training programmes – these are launched when there is sufficient interest and numbers.
_____________________________________________________________
Recent Publications (5 years or less):