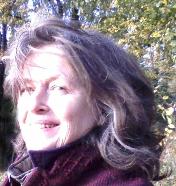 It is with great sadness that we hear of the death of Janet Pfunder on Thursday evening, March 5th in Brooklyn New York. She died in hospital after a brief illness. Janet was a well-known Focusing-oriented therapist, active in the Relational Psychoanalysis group in New York and much loved for her unique balance of warmth and rigour.
Janet was a beautiful partner, friend, therapist, Sufi teacher, artist, philosopher, dreamer, Focusing teacher, person and soul. She was scheduled to teach an upcoming workshop on Focusing and Dreams and was valued for the richness and humility that she brought to her teaching and the meaningful encounters she offered her clients, students, colleagues, family and friends.
Janet's death leaves a profound absence. Below is a brief professional biography of some of Janet's accomplishments:
Janet Pfunder was a therapist and supervisor, in private practice, for 30 years. She was certified by the Focusing Institute in 2000. She was also a teacher and supervisor for the FORP (Focusing Oriented Relational Psychotherapy) programs, created by Lynn Preston, in both New York and Cape Town, South Africa. She also facilitated Focusing Oriented Dream Groups and presented "Dream Appreciation: A Crossing of Eugene Gendlin and Montague Ullman"at the FOT Conference in November 2009. She studied dream group process with Montague Ullman, Jungian alchemy with Nathan Schwartz-Salant and gender theory with Jessica Benjamin. She studied psychoanalysis with Michael Eigen. Following several decades of immersion in Sufi practice and teaching, her paper "Sufi Meditations on Psychotherapy" was published in 2005 in Psychotherapy and Religion: Many Paths, One Journey. Her most recent paper, "Colors of the Invisible: Sufi Healing," was published in 2008 in WomanSoul: The Inner Life of Women's Spirituality. She was also a painter; her most recent one-woman show was at Harvard in 2000, as an alumna.