Mrs. Christel Kraft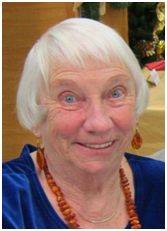 Focusing Institute Certifying Coordinator
Personal Statement
CHRISTEL KRAFT, M.Ed. has been involved in group facilitation and therapeutic spiritual counselling since 1972. She believes that the human potential is limitless when blocked energies are allowed to be released in a gradual process of awakening through:
"Energy Flow Focusing Explorations. Passageways into your Hidden Treasures (see booklet in News section).
The experience of my own development has led me into business and various areas of teaching and counselling. I work as a freelance educational counselling therapist with individuals, couples and groups. My areas of expertise include crisis intervention, marriage enrichment, dream exploration, relaxation/meditation, and application of Bio-Spirituality, Focusing, and EFFE. My emphasis is placed on communication, inter-personal relationships, decision making, personal growth, creativity, and empowerment through inner spiritual wisdom.
Location(s):
Office 1: 118 Birch Ave. Victoria Beach/MB Canada R0E 2C0
Public Contact Details:
telephone: 204-756-8578
email: christelkraft77@gmail.com
Languages: English/German
---
Professional Details:
Professional memberships with licensing or registering bodies:
In semi-retirement so have discontinued professional affiliations for practice.
Academic and training qualifications:
M.Ed. in Educational Psychology at the University of Manitoba.
Focusing Institute Certified Trainer and Certifying Coordinator and the Director of the Manitoba Association for Focusing and Bio-Spirituality.
_____________________________________________________________
Therapeutic services:
o  Individual psychotherapy/counselling
o  Individual Focusing sessions (guided Focusing, not ongoing therapy)
o  Telephone sessions
Areas of special interest or advanced training:
I am now selectively incorporating several Meridian and Chakra based Energy Therapies in my approaches:
EFT – Emotional Freedom Technique (Gary Craig)
TAT – Tapas Acupressure Technique (Dr. Tapas Fleming)
BSFF – Be Set Free Fast (Dr. Larry Nimms)
MatrixWork (Dr. Nahoma Asha Clinton)
---
 Training: 
o No current training offered
Details of these and any other services:
Also partly retired, I am still available for individual sessions
In person, by telephone or e-mail
_____________________________________________________________
Recent Publications (5 years or less):
ENERGY FLOW FOCUSING EXPLORATIONS – PASSAGEWAYS INTO YOU HIDDEN TREASURES PDF version 2014